Information Technology
Envision IT
Suite 4, Level 2, 255 Blackburn Road
Mount Waverley, VIC, 3149
Ph: (03) 9886-7240
Opening Hours
| | | | |
| --- | --- | --- | --- |
| Mon: | 09.00 AM | - | 05.00 PM |
| Tue: | 09.00 AM | - | 05.00 PM |
| Wed: | 09.00 AM | - | 05.00 PM |
| Thu: | 09.00 AM | - | 05.00 PM |
| Fri: | 09.00 AM | - | 05.00 PM |
| Sat: | By Appointment | - | - |
| Sun: | By Appointment | - | - |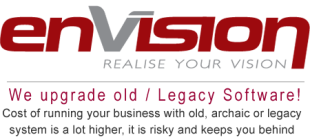 Running your business with old and archaic systems is expensive and risky. Established in 2002, Envision IT is in the business of making your business, highly efficient and productive. We do so by providing you customised solutions, upgrading your existing systems and software cost effectively. This involves developing new or upgrading existing applications to implement new and highly efficient business processes of the day and training your people.
We may start with simple things like Microsoft Software Licenses (Office, O365, Servers, Cloud) etc. and progress to build a complete solution involving AI, Apps, Automation, Chat Bot, Cloud Enablement and Migration, business process streamlining, integration of different applications, devices such as cameras, RFID and IoT, equipment such machinery, Motors, pumps, boom gates, software products such as JD Edwards, Oracle HCM, SAP etc.
When you have the vision for a paradigm shift, we have all the resources to realise it!
Our solutions are deployed in general business, corporations, SMEs, Aged Care, Charity, Not for Profit (NFP), RTOs, City Councils and Government Agencies, Education, facilities Management, Manufacturing and parking.
Software Licensing
Envision IT is known for providing software at lower cost from vendors such as Autodesk, Bing Maps, Cisco Meraki, ESET Anti-virus, Microsoft, Oracle and almost all major vendors. We are able to do due to long term alliance with vendors and volumes.
We service all segments i.e. Academic and Education including RTOs, Autonomous Bodies, business and commercial, SME, Charity and Not for Profit (NFP), City Councils, Government Agencies and others. We process special price eligibility requests for Academic, Education, Charity, Not for Profit and Government organisations.
Autodesk products include AutoCAD, LT, Revit, Inventor, Industry Collections and hundreds of others. All Autodesk products are available on Subscription only.
Bing Maps licensing is available for businesses and commercial for their MS Dynamics, Internal Applications, Public Websites, Mobile Asset tracking and Management such as staff deployment and truck routing
Cisco Meraki networking equipment and software for businesses for employees and associates and places like cafes, eating places where you need to provide internet to customers.
ESET Anti-Virus for Antivirus and other protections. Also available are Kaspersky, Trend Micro etc. Special prices for Academic and Charity use
Microsoft Azure cloud, Office (Perpetual License), O365, Windows, Windows Server, SQL Server, Exchange, SharePoint, etc. on premise, perpetual or cloud, CSP
Oracle Cloud Solutions or database and other products. We can dramatically reduce your Oracle license costs and upgrade you at far lower cost than your current vendor.
So for any licensing requirement, be it any of the above product or something else, just contact us!
Software Development
It may cost less and be delivered quicker than you think!
The software development activity involves developing new custom applications / products or upgrade existing systems, especially legacy applications that are difficult to use and highly risky to upgrade.
We work with you to provide integrated, highly reliable, efficient and productive systems that are easy to use. Often termed 'business and digital transformation', we make it happen by smoothly transitioning people to new business process (thats where the value of upgrade lies).
As needed, the new systems will contain things like AI, Apps, Chat Bots, face / handwriting / voice / video reconition and interations (you talk to apps).
While we specialise in mid to large projects, we remain highly competitive in small projects. In fact, AI and Chat Bot projects could be implemented from $3000 Ex GST onwards!
Whether you are facing difficulty with existing systems or looking for paradigm shift for your business, contact us today. We may have a solution that may cost much less and quicker than you would imagine.