Community
Carrington Health
43 Carrington Road
Box Hill, VIC, 3128
Ph: (03) 8843-2214
Opening Hours
| | | | |
| --- | --- | --- | --- |
| Mon: | - | - | - |
| Tue: | - | - | - |
| Wed: | - | - | - |
| Thu: | - | - | - |
| Fri: | - | - | - |
| Sat: | - | - | - |
| Sun: | - | - | - |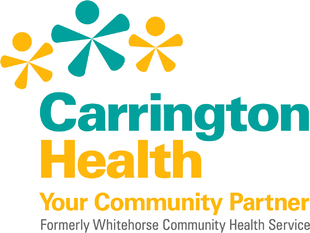 Carrington Health is a not-for-profit organisation that provides a large range of health services to the local area. We deliver efficient, effective and innovative health programs and partnerships that make a difference to those at risk and the broader community.
We offer individual, group and community-based programs and services for people of all ages. This includes allied health, counselling, oral health services, chronic disease management and social support and prevention programs. Priority is given to people who are at greatest risk of poorer health outcomes and our models of care are flexible and responsive, offering high levels of support.
Did you know?
During 2013/14 we connected with over 10,000 clients across 30,000 visits (this means we saw around 10% of the total population of Whitehorse)
Over 30% of our clients are from a culturally and linguistically diverse background.
Almost 20% speak a language other than English at home, with half of this group speaking Mandarin or Cantonese
Box Hill Family Dentistry is the newly opened private dental arm of Carrington Health which offers affordable, quality dental care for the family, with no waiting lists or eligibility criteria. Offering a range of services by Australian qualified dentists including general dental treatments, care and prevention problems, oral hygiene and cleaning treatments, crowns and bridges, dentures, orthodontics and teeth whitening. Private health fund rebates are available on the spot, usually resulting in little to no gap payments required.
Carrington Health is located on level 2, 43 Carrington Rd, Box Hill
For appointments contact 9890 2220. Open 8.30am to 5.00pm Monday to Friday. info@carringtonhealth.org.au www.carringtonhealth.org.au